HANDMADE COUTURE: Make this look too - A Burgundy Louis V Barrel Bag
3/20/2017 12:08:00 PM
Are you or someone you love a designer handbag enthusiast? Do you sometimes find yourself staring at bags you see in magazines, or even on someone's shoulder in the grocery store wondering how to recreate that bag? Then the Handmade Couture series is for you. We pick a designer bag and tell you how to recreate it using available sewing patterns, materials and hardware. You can have the same look, but make it totally "you" and for a fraction of the cost. When you sew your own bag you know exactly what is going into the bag and can add or modify features to suit your preferences. Today, we are going to show you how to recreate this
Louis Vuitton Speedy Bandouliere Bag
:
This LV Speedy is a very recognizable barrel style bag, and comes in a multitide of colors. It also comes in different sizes, with the medium size measuring 11.8" Long x 8.3" x High x 6.7" Wide. With the vintage vibe, the barrel bag is a staple that remains a fashion stape year after year. It features a zippered closure, a detachable crossbody strap, rolled handles and an interior zippered pocket. You can own this beauty for 2,840 U.S. Dollars.
Love the look of the LV Speedy? Let's be or own brand.
Pattern + Hardware + Fabric =
Handmade Couture
Pattern: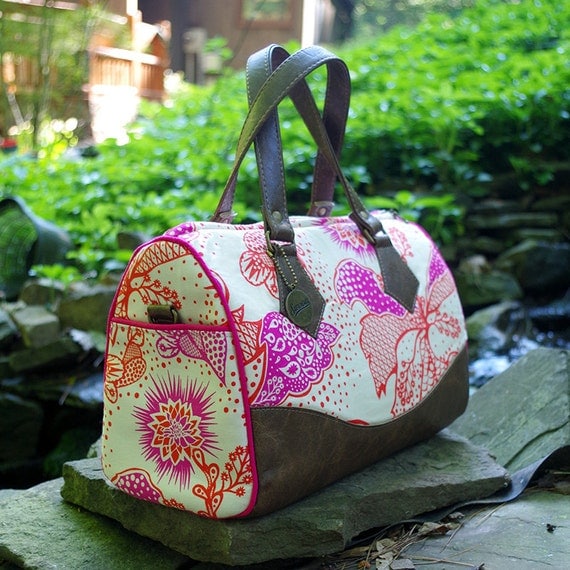 Like our inspiration bag, you can make Blanche in different sizes. The handbag size is 11" Wide x 7" High x 5.5" Deep. Blanche also offer similar features: a zippered top closure, a detachable cross body strap and an interior zip pocket. To mimic the look of our inspiration bag, you can choose to leave off the overlay on the bottom of the blanche as well as the exterior side pockets to get the same sleek look.
Hardware:
Blanche isn't a bag that requires a lot of hardware, but as well all know, some thoughtfully placed hardware can take a bag from simple to chic in no time flat. Here's what you need:
(4)
3/4" Rectangle Rings
(2)
3/4' D-rings
:
(2)
3/4" Swivel Clips
:
Or even a
hanging tassel
:
Fabric:
Instead of the LV monographed leather, why not try an embossed faux leather to get the same look without the LV name. Like this Poppy patterned embossed faux vinyl that is available from Etsy
here
:
Or how about a real embossed leather like this one:
Cork is also a great option, and the natural texture of the cork gives an effect similar to the texture of embossed leather:
Cork is a great material to work with, it sews up as easily as fabric and doesn't require any special tools. You can purchase cork from
Sew Sweetness
in the US and
MM Cork Supply
in Canada.
Another great option for this bag would be a tweed, or similiar fabric with texture, like this availble
here
:
You can always choose to do this in whatever fabric you are comfortable working with! A fun cotton print, canvas or even denim! That's the benefit of creating your own, it's what YOU want it to be. Handmade can be couture too!
-----------
Photos and content provided and written for Emmaline Bags by Cyndi Farfsing, from
The Nosy Pepper.
Cyndi's blog is chock is full of more bag photos and make making tips. Check out her bag series
"It's in the Bag! Better Bag Making Series,"
to learn a ton of new bag making skills.
Share your projects made from Emmaline patterns and/or with Emmaline hardware in our facebook group
Emmaline Sewing Patterns Group
, or on instagram with the hashtags #emmalinehardware, #emmalinepatterns, #emmalinebags, or tag us @emmalinebags.