My SEWVIVOR Entry: The Cradle Purse
3/05/2013 03:52:00 PM
I've decided to participate in my first sewing contest. You can read all about Sewvivor, hosted by Family Ever After HERE. It's pretty exciting and the prizes are awwwwsome!


I've linked up my
Fabric Cradle Purse Tutorial
in hopes of being one of the 10 selected for the contest. I'm not sure it's my best work, but I do love it and I think it's a great tutorial that has had a lot positive feedback. I'm not really sure what my best work is, that's a tough one. Perhaps some of the bags I have made and sold, or a quilt I made and appliqued for my Mother. But I don't have pictures of those.
I
really
hope I am selected to go into the contest because the first challenge is "
Emerald
", Pantone's color of the year, and I have something
FABULOUS
for the entry. I am soooo excited about it, but can't tell you what it is! The fabric is ordered and one the way, and I think even if I don't get selected, I'm going to make it anyway and share it with you all. It might even end up being a pattern. Let's just say - if you like anything retro, you will like this!
The other challenges in the contest will be "buttons" and "quilted", and I'm still considering what I'd do for those if I make it that far. I have some ideas... but nothing for sure yet.
What would you make? If you love to sew, head on over, read the rules, and
ENTER
! If you aren't entering, browse and click through the auditions, there is some major inspiration there. Lovely work!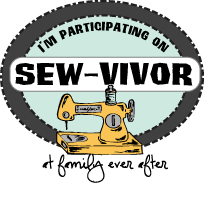 Thank you for reading,
may your bobbins always be FULL!!